The Signal Show 2008-02 February 3, 2008
Posted by Stuart in Playlist.
trackback
The Signal Show 2008-02 is now online! Stuart Flanagan meets Blood Red Shoes, the duo from Brighton who have released a series of sizzling 7″s over the past 18 months. The band are now signed to Mercury and will release their debut album "Box Of Secrets" in April. Stuart caught up with Steven as the band started their current tour of Ireland and the UK, and chatted about the trials of the tourbus experience and keeping your voice after a night on the brew! Steven & Laura Mary pick some of their favourite recent tracks for the show, plus we hear the new single "You Bring Me Down".
Also featured is new music from Hatcham Social, Adam Green and Black Mountain, plus album tracks from British Sea Power and the Maccabees.
To listen to the show click the red Radio Magnetic logo above.
To go to the show site CLICK HERE.
1 JOY DIVISION – Digital (Factory)
2 ADAM GREEN – Morning After Midnight (Rough Trade)
3 ENVELOPES – Party (Brille)
4 POPPY & THE JEZEBELS – Nazi Girls (Reveal)
5 THE SUGARS – The Way To My Heart (Play Louder)
6 BEARSUIT – More Soul Than Wigan Casino (Fantastic Plastic)
7 KIM WESTON – Helpless (Castle)
8 THE SWEET THINGS – I'm In A World Of Trouble (Castle)
9 MACCABEES – All In Your Rows (Fiction)
10 BRITISH SEA POWER – A Trip Out (Rough Trade)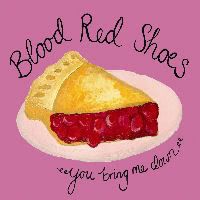 11 BLACK MOUNTAIN – Stormy High (Jagjaguwar) 12 THE CRIBS – Men's Needs (Wichita)
13 HATCHAM SOCIAL – So So Happy Making (Loog)
14 ORANGE JUICE – Blue Boy (Postcard)
15 Interview – BLOOD RED SHOES – You Bring Me Down (Mercury)
16 Interview – BLOOD RED SHOES – I Wish I Was Someone Better (Mercury)
17 QUEENS OF THE STONE AGE – Sick Sick Sick (Interscope)
18 PJ Harvey – White Chalk (Island)
19 BASIA BULAT – In The Night (Rough Trade)
20 SUPER FURRY ANIMALS – The Gift That Keeps Giving (Rough Trade)

Show 2 of 2008 is now up, and features some great new songs – I especially love the Hatcham Social single which is a perfect distillation of everything that was great about Glasgow's Postcard label from the early 80s. Good to get some full on rock in the playlist too, with new-proggers Black Mountain and the towering QOTSA – can't wait to see them play this week.
PJ Harvey's White Chalk album was one of the most poetic and beautiful of last year so thanks to Laura Mary from Blood Red Shoes for nominating it for a play this time out. And finally drift away to the gorgeous SFA track that closes the show.
Tune in, listen, enjoy and feedback!